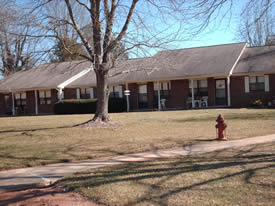 Randolph Hill, located in Ramseur, is an apartment community designed for senior citizens, age 62 and older. A limited number of apartments are available for non-elderly persons -- under age 50 -- who are handicapped and/or disabled.
Consisting of 40 one-bedroom, one-bath apartments, Randolph Hill provides affordable housing for residents having limited incomes.
Located on King Road off US 64, Randolph Hill offers residents of Ramseur and the surrounding area a beautiful residential atmosphere and the convenience of nearby shopping, banking, pharmacies, and churches.
Amenities:
One-Bedroom Apartment Units
Refrigerator
Range
Carpeting
On-site Laundry Facilities
Community Room
Energy Efficient Heat and Air Conditioning
Handicap Accessible Units Available
Emergency Call System
How to get there:
*Note: Google content is the sole responsibility of Google Inc. CMC makes no guarantees as to the accuracy of these directions.