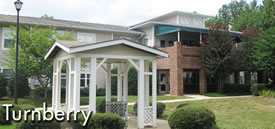 Turnberry is a 40-unit apartment complex conveniently located in downtown Wake Forest. The complex includes a security system at the entrance connected to each individual apartment, power-assisted entry doors and elevator, fireproof design with sprinklers throughout, on-site resident manager, handicapped accessible units, on-site laundry facilities on each floor and ample meeting space for resident activities. There is also a large-print book library.
Supportive services through Resources for Seniors of Wake County are available for individuals with special needs, in addition to regularly programmed activities for all residents.

Information courtesy of DHIC, Inc.
Amenities:
Emergency pull cords
Accessible bathrooms with grab bars
Fully equipped kitchen with pass-through counter
Electric stove
Range hood and refrigerator
Individual storage lockers
Energy-efficient electric heat and air conditioning with separate thermostats
Wiring for cable television
How to get there:
*Note: Google content is the sole responsibility of Google Inc. CMC makes no guarantees as to the accuracy of these directions.